//= Html::a('Go To Landing Page', ['//landing']) ?>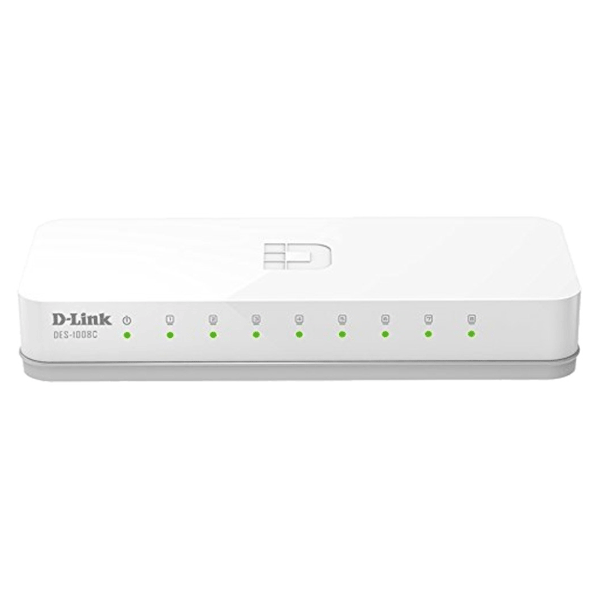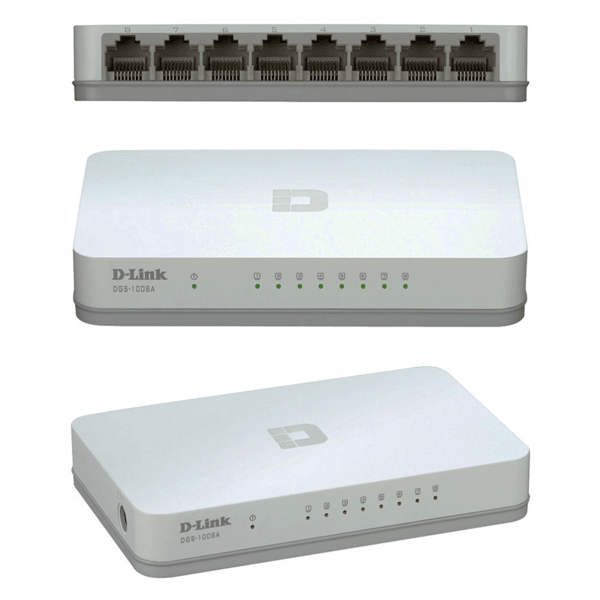 D-LINK DES-1008C 8-Port 10/100 Desktop Switch (White)
29.96 % OFF
1,999.00
1,400.00
This item is currently out of stock
Quantity :
Dual Connectivity Modes
Establish wired local network in your office with the D-LINK DES-1008A 8-Port 10/100 Desktop Switch (Black). The device functions as both a wireless router and an Ethernet switch giving you two different options for internet connectivity. You can either sync this DES-1008A 8-Port 10/100 Desktop Switch with multiple PCs for sharing files and folders or sync it to a router for sharing an internet connection over your location. There are a total of 8 LAN 10/100 Mbps LAN Ethernet/Fast Ethernet ports in the device that enable high-speed internet connectivity for seamless online gaming, video streaming or file downloading. The data transfer rate vary with 10 Mbps (half duplex) and 20 Mbps (full duplex) on Ethernet mode and 100 Mbps (half duplex) and 200 Mbps (full duplex) on Fast Ethernet mode.
Automatic MDI/MDIX Crossover
With the automatic MDI/MDIX crossover functionality, this DES-1008A 8-Port 10/100 Desktop Switch enables connections with both Ethernet and Fast Ethernet devices in a closed set-up integrated network at home or in your office. An automatic recognition of the network speed gets possible and the ports are as well able to automatically negotiate between full and half-duplex modes and the 10BASE-T and 100BASE-TX speeds to let you derive the best speed as per the requirement of every connected device in your network. This MDI/MDIX crossover function also does away with your need to install uplink ports or crossover cables in your internet network as you can directly connect every port to a hub/router/server/switch via any standard straight-through twisted-pair Ethernet cable.
Additional Salient Features
The DES-1008A 8-Port 10/100 Desktop Switch comes with some built-in utilitarian features to provide you snag-free internet connectivity. The 802.3x flow control of this device provides you a safe avenue for data transmission as dropped packets lower down in number on every port in scenarios when a port's receiving buffer gets completely filled up. This allows for improved performance in terms of a more fluid and hassle free networking for all the connected devices in your set-up. You would also not be spending too much and saving your bills with the IEEE802.3az EEE power saving built-in in this DES-1008A 8-Port 10/100 Desktop Switch.
Serviceable Designing
You will be in a position to instantaneously check your connection and network status through the LED indicators located on the front panel of the DES-1008A 8-Port 10/100 Desktop Switch. An LED indicator next to each port shows you the link/activity status and an LED indicator shows you the power on/off status for each connected device. You can get ahead with your internet networking the moment you install this DES-1008A 8-Port 10/100 Desktop Switch in your personal computing area. The high 2,137,319 hours MTBF (Mean Time Between Failure) featured by the device testifies to its efficient functionality and trouble-free internet connectivity. The RoHS compliant product is also made with eco-sensitive materials and does not harm the nature.
Brand
D-Link
Color
White
Type
Ethernet Switch
Warranty
3 Months
Ports
8
Speed
100 mbps
10 Mbps